It's been a while since we've fixed anything. But no worries- something always breaks around here!  Lately, our fancy electrical dryer decided to call it quits. 
The symptoms were typical and described all over the net: no response to the power-on button, a few LEDs glowing faintly and interior bulb turning on with the door open. Occasionally, I could also get things to start by flipping the dryer breaker off and letting it sit for a few days. Yeah, very popular with SWMBO. The solutions were all over the place too and mainly suggested replacing either the control board ($250), user interface panel ($145) or a thermal fuse $12). Problem is, you need to know which one you actually need first and that requires debugging.
Taking off the kick panel yielded a baggie with a service manual and schematic in it- very handy. Thermal fuse turned out to be perfectly fine though. Oh well.
So now we are down to the electronics.
Taking the unit apart turned out to be very easy- take three screws out on the back, slide the top cover off, then the control board is on the left, easily accessible.  Looking at the schematic, not much can prevent things from turning on.
The lamp being on indicates we have 120V present. Checking on the terminals at the control board confirmed that as well. So it is now down to either that board or the user interface one. I removed both (it takes a few screws and disconnecting several connectors) and set them up on the bench to debug. Luckily I've been able to make it fail on the bench- very important step in any debug:
The system was still refusing to see any key presses, so I started poking around with a scope. The whole thing runs off a single Freescale micro co-branded with Whirpool and in a giant DIP package. 5V supply and reset looked fine and there was definitely activity on the IO- I could see the micro scanning keypad lines.
Looking at the number of LEDs and buttons it soon became clear that some major multiplexing was used. There was just not enough signals coming over the 14 and 6 pin cables between the boards to drive everything directly. They did though have three dedicated inputs that were going to special function buttons- things like Power On, Start etc. And two of these had a differing waveform than the third. (which happened to be a Power On!). Ok, getting somewhere.
So I kept poking and prodding and could not see any obviously faulty components.I replaced cable between the boards with separate wires and tried removing them one at a time to see if the problem persists.  I even went ahead and resoldered all connectors between the two boards but nothing changed.  As I sat there staring at things and trying to sketch how the whole mess of a multiplexing was implemented, I accidentally bumped one of the LEDs  ( I think it was D15, Wrinkle Guard) and noticed the dimly lit other ones flickered.
I prodded it again and the lights went off, but the system started. And of course the scan signal on the PowerOn button now matched the other two. Interesting! So I powered off the boards and resoldered all LEDs on the whole front interface assembly.
Power cycled and things were up and running. I ran built in diagnostics and all LEDS lit up normally:
Conclusion:
It's now been a few months since the repair and the dryer still starts every time. I've been too lazy to trace out what exactly the designers multiplexed together but it appears they used reverse biased LEDs as diodes in the scanning matrix. As a results LEDs that are off still affect things and all it takes is one bad solder joint in one distant corner of the board to make a seemingly unrelated PowerOn button stop working.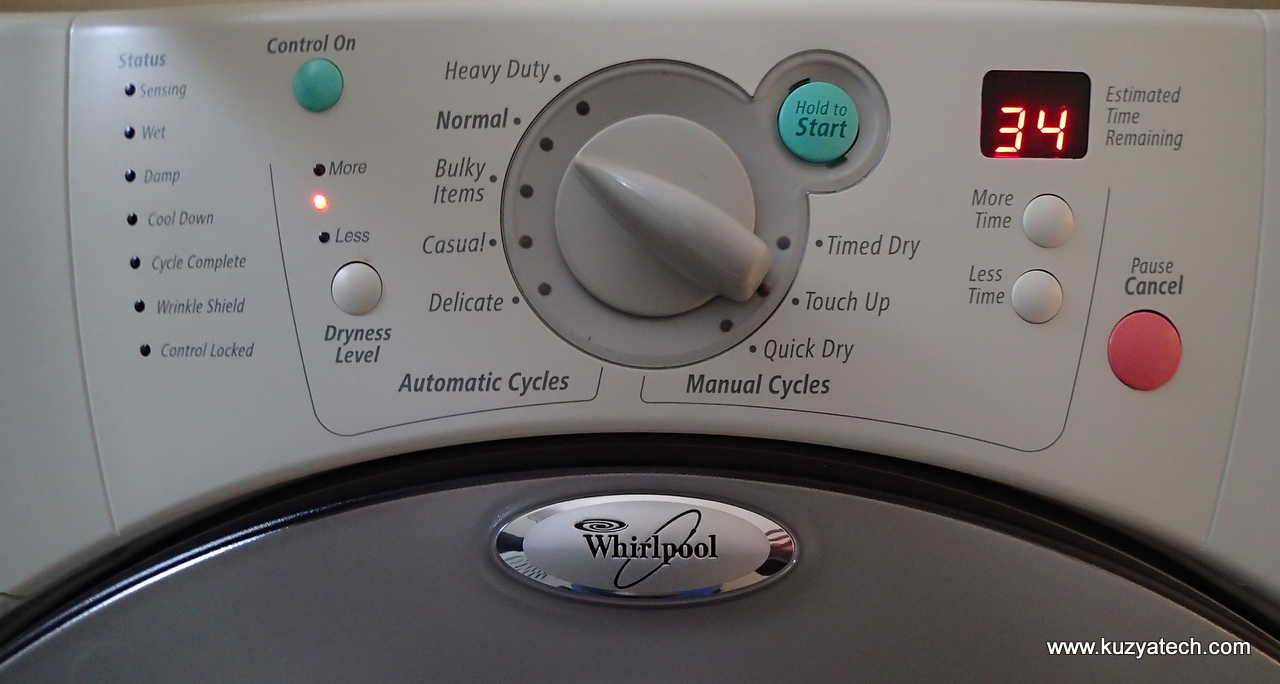 Disclaimer:
If you try this on your own, make sure you know what you are doing, always disconnect power and proceed on your own risk. High voltages are present in the dryer!