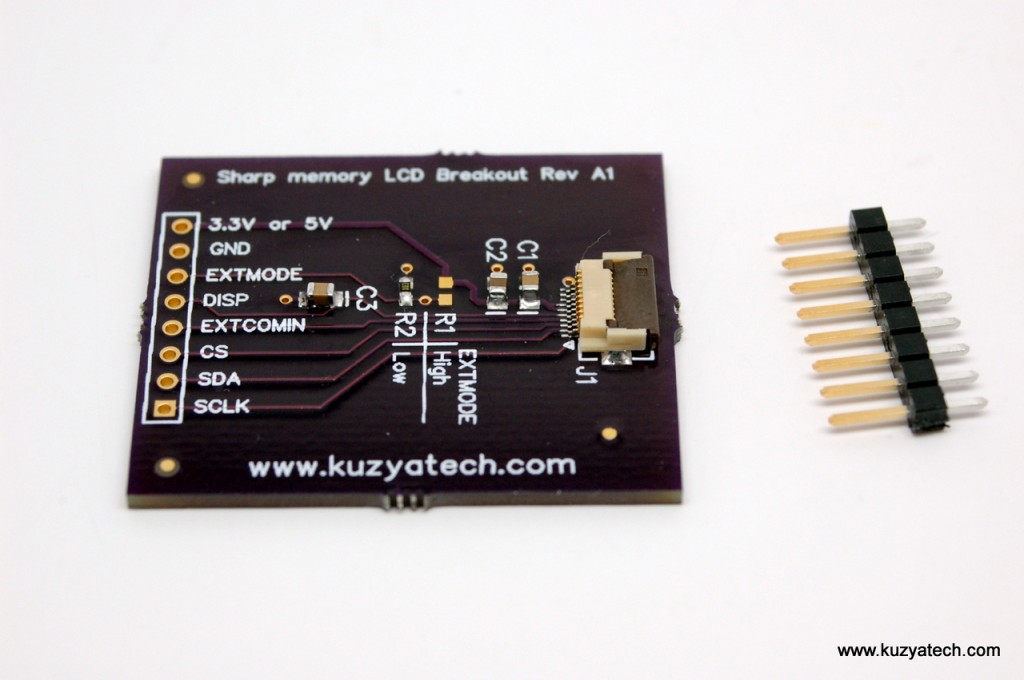 I have a few of the LCD breakout boards available for sale.
Schematic diagram is here .
Note: the header is included but not soldered, to make life easier in case you need to run wires to the board instead. Sharp LCD is not included. You can get the 5V version (LS013B4DN02) from Mouser. Part number is 852-LS013B4DN02. The boards were tested with Arduino Uno driving the LCD directly with 5V IO. That seems to be fine for the display according to the Sharp Datasheet.
First solder the header or wires as needed, then attach the display using a small piece of double sided tape and connect the flex. See my previous post for pictures on how a fully assembled board should look like, and this post for testing details
Connections for Arduino  :
| | | | |
| --- | --- | --- | --- |
| Breakout pin | Arduino pin | Breakout Pin | Arduino  Pin |
| 1 SCLK | 13 | 6 EXTMODE | 4 |
| 2 SI | 11 | 7 GND | GND |
| 3 SCS | 12 | 8 VCC | 5V |
| 4 EXTCOMIN | 3 | | |
| 5 DISP | 2 | | |
Shipping is via  USPS First Class Mail. Items in stock usually ship the next business day ARO. Allow a week or so for delivery in the US