Another addition to my growing collection of vintage multimeters is this Weston Schlumberger Model 6000 meter from the mid 1970s
The meter was listed as in almost like new condition except for a spot on the front panel. It came with (very rubbery) test leads and an actual printed user manual- a rare thing these days.The Ebay posting was worded very carefully to never mention whether the thing actually works, so I figured it did not really matter. If it does not- teardown turns into repair attempt and either way we learn something new.
Introduction:
The meter arrived and did indeed look very clean and lightly used. I turned it on but display remained dark. So let's check the batteries first. Wait, how do we get to them?? Looking through the user manual, apparently you have to pop the front bezel starting near the AC/DC switch. Oh, this thing takes two 9V batteries:
This also explains the weird stain on the bezel- that's where the batteries live and leak. There is also a large number of adjustment/calibration pots accessible through alphabetically named openings- a bit unusual! The user manual goes into great details on how to calibrate each range by supplying suiatble signal and then turning corresponding adjustments until the display matches the input. Overall not a bad design, batteries and fuse holder are easily accessible.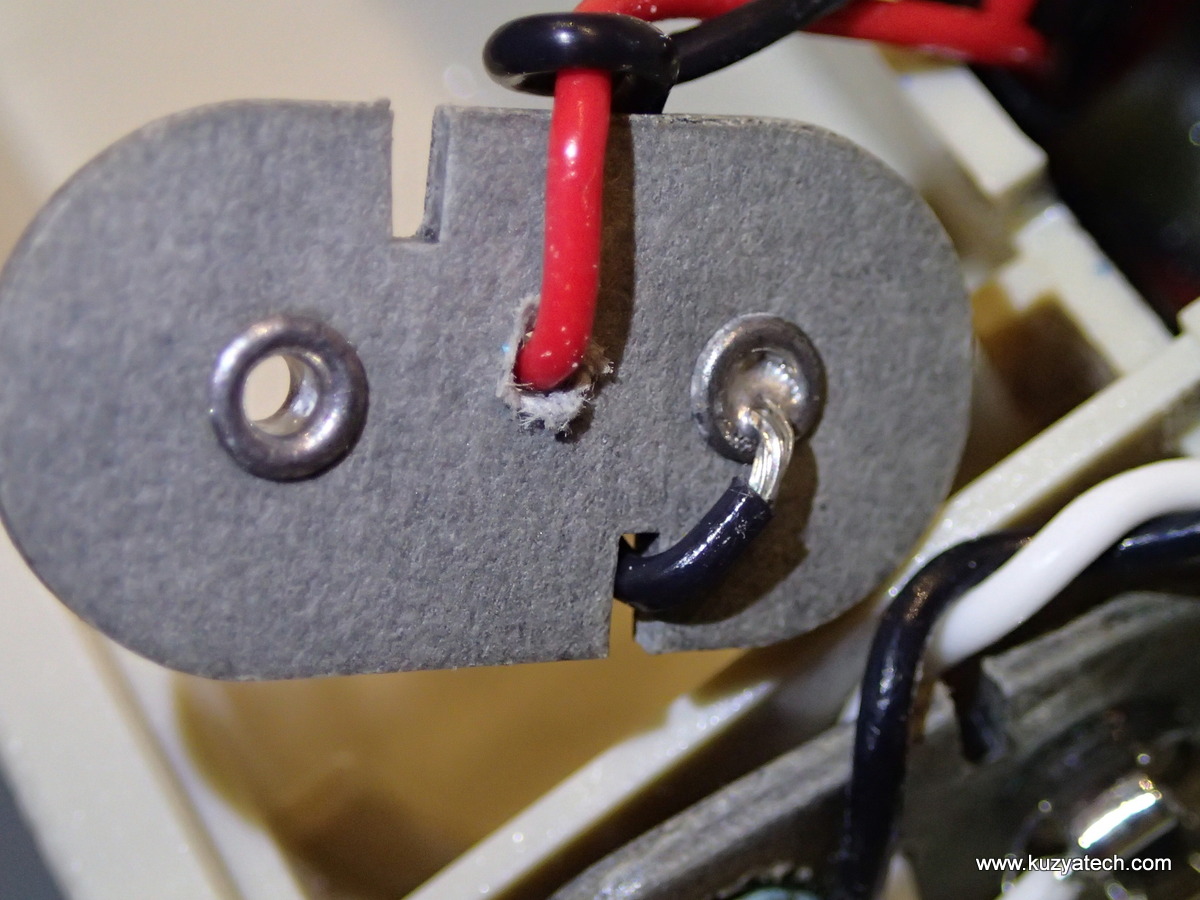 After cleaning the contacts and installing the two batteries, I turned the meter back on. The display stayed dark. Oh well, time to take'er apart!
Teardown
The back is held by four very nice stainless steel screws:
Back cover off:
And now we come upon a work of art. For the admirers of ancient tracework, here is a high-res version.
To remove the front, a range selector knob has to come off. Per MrModemHead's suggestion, a thick rag and a pair of locking pliers was all that it took:
There appears to be two "clicking" options here- one relying on the notches around the knob shaft, the other- around the outside. All selected by inserting the spring leaf and a brass roller into the appropriate spot.
Now it's only the fuse holding things up:
Components
This is mostly an IC based design with Weston branded chips that I am yet to find commercial equivalents of, so if you have any information- feel free to leave it in comments.
The display is driven by a 40 pin DIP 277093-901. It looks similar to ICL710X, but the pinout does not match any existing parts.
Next to it is a 28 pin DIP 277092-901 with a numbered sticker- I suppose it could be a micro or memory.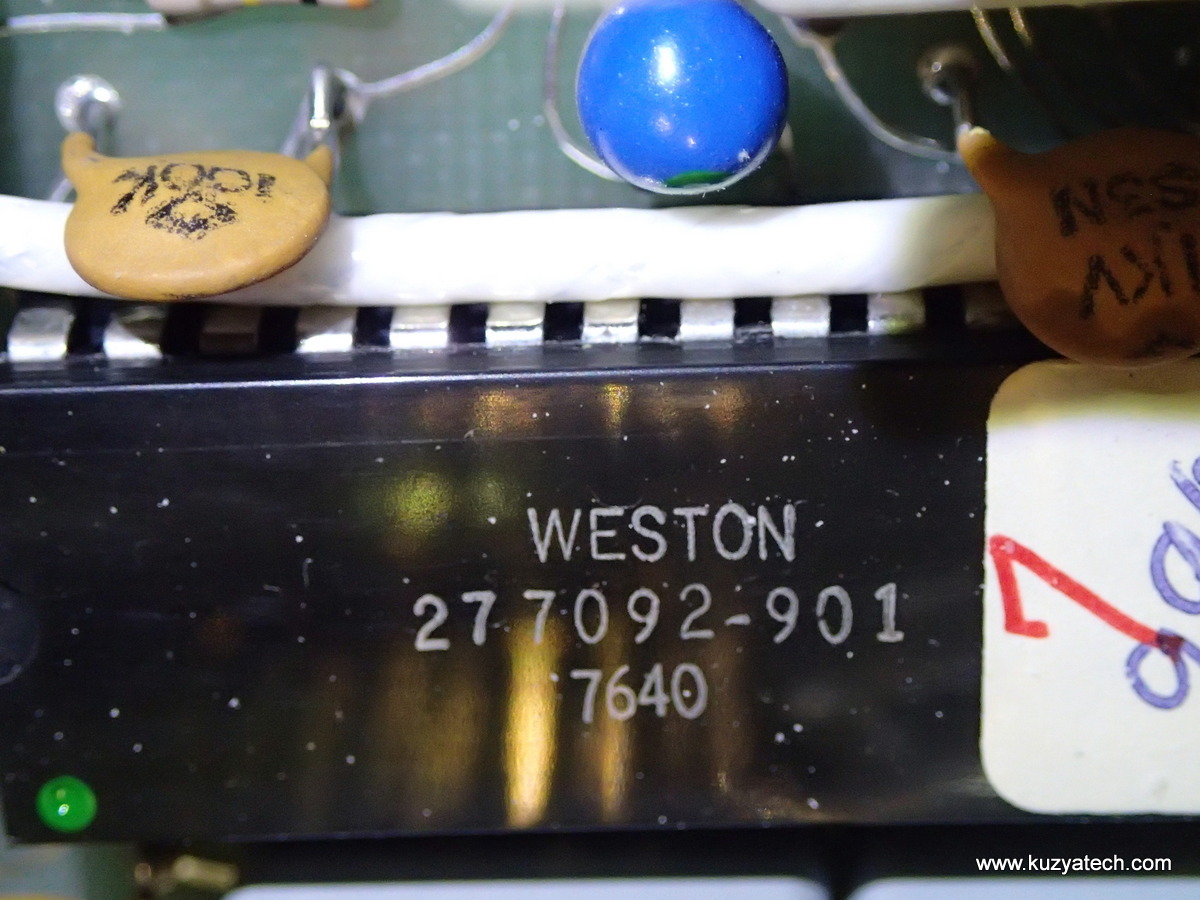 At the far end is a 16 pin DIP 277094-901, that seems to be some type of a logic gate .
And finally an 8 pin DIP is a Motorola MC3476 Opamp
Seems to be a GE X40N165. Interestingly enough, why is there a trace cut going to the rightmost one? There is also a resistor in a spot marked as a diode. I see no other signs of rework, so will leave it alone for now.
Another canned IC, labeled as a ITS30611. Seeing how it's got a guard trace around a pin, probably an amplifier of sorts
Troubleshooting.
The meter did come with a user manual, but sadly no schematic, so that will make things a bit more interesting.
User manual cover shows the meter with a positive (ie black numbers on white background) display. The screen here is all black, and does not change with the meter on. Time to break out a scope:
Looking at the signals going to the display, I see a normal out of phase 80Hz 5V pattern, so something is trying to drive it.  Every few seconds the two signals end up in-phase, indicating possible "blinky indicator" may be going on.
Using an LCD glass from my spare parts bin, I can see the same (Upper right corner of the picture).
So it appears the meter is alive and trying to do something but the screen is either not making good contact with the metal strips or is simply not working.  I have a few options here:
Leave it alone as a nice museum piece
Try cleaning/improving contact under the glass
Try to find a similarly sized glass with the same pinout (brief scan of Mouser and Digikey did not yield much). The replacement would most likely require desoldering all the metal strips at the board before I can pull the display out of the holder
Make a replacement display holder board mapping currently manufactured display to the existing pinout.
It would also be nice to know why one of the GE transistors has its Base (or Gate) disconnected, and what their function is in the circuit. There is some digging to be done, so for now enjoy the teardown. To be continued!
Resources: