This week's part of the week is a Linear Technology's LT8584. The part is a DC-DC converter that is designed for a very specific purpose- active balancing of battery cells. In a typical long battery string, no matter how tightly matched initially, there will always be cells that end up with a bit more or a bit less charge. Over time these imbalances start affecting what the battery can deliver, as one week cell may trigger undervoltage limit for example and shut the whole pack down despite other cells being perfectly happy.
The usual solution to this problem is a passive(shunt) balancing. Basically a big resistor is switched across cells with high voltage during charging to shunt away the excess current and discharge these cells. This is usually thermally wasteful and slow since the currents are limited by heat dissipation.
Linear Tech's solution is pretty elegant. A flyback converter connects to each cell and instead of dissipating the extra energy, pushes it to the pack itself, recovering energy and shuffling charge to weaker cells.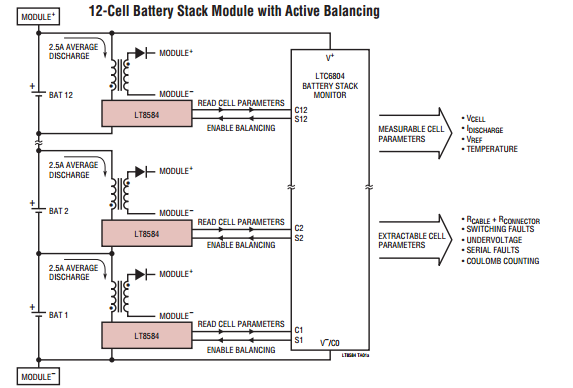 Each converter is rated to 2.5A, and can even be paralleled if higher currents are needed. The chips are about $3.50 each at 100 pc qty